Defined Benefit Plans
Your web portal for 412(e)(3), Traditional Defined Benefit and Cash Balance Plans
First-Year Contributions by Age
Participant with $230,000 + Salary
THE BENEFITS OF A DEFINED BENEFIT PLAN DESIGN
PROSPECT SUITABILITY
A defined benefit plan is the only tax-qualified retirement plan that allows a participant to accrue a benefit that has a value exceeding $58,000 in 2021. However, because plan contributions are required once a benefit is accrued, it is very important to make certain that this type of plan is suitable for your client. The ideal plan sponsor:
Is a "Baby-boomer" (Age 45 – 65)
Has stable income and profitability
Is older than most other employees (if any)
Can make a multi-year commitment to increased contributions
THREE PLAN DESIGN ALTERNATIVES
Once you have determined whether or not you have a good prospect, the next step is to review the plan design options available. Security Mutual Life and SAI remain at the forefront of defined benefit design and offer comprehensive service for all three major options. The chart below summarizes the markets for each alternative:
GET A DEFINED BENEFIT DESIGN STUDY
Before we can help you review plan design options, we need to know three basic things:
Who is there?
What do they have now?
What are the goals and/or the budget?
Use our "Form Fillable" Fact Finder to communicate your case to our qualified plans design team.
The Design Team at Security Mutual Life provides comprehensive support to appointed representatives at no cost.
If you are not yet contracted with us but would like to discuss options please click here.
Security Mutual Life offers FAQ's, 10 Reasons…, Product Pieces and more related to our 412(e)(3) program.
Security Mutual Life offers FAQ's, 10 Reasons…, Product Pieces and more related to our Defined Benefit program.
Security Mutual Life offers Client, Agent, Product Pieces and more related to our Cash Balance program.
Download one of the comprehensive SAI installation packages that contain the necessary forms to set up a new qualified plan.
Additional Marketing Materials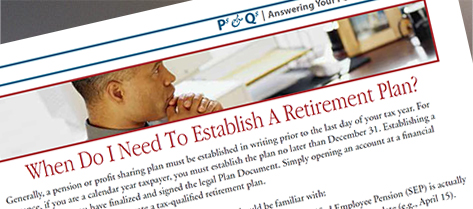 You have pension questions, we have answers. View the 2018 plan limits, get answers to your pension questions.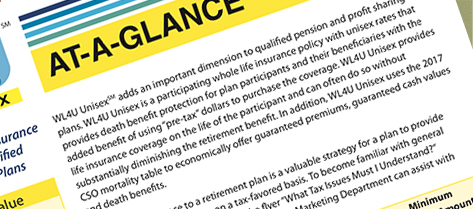 Learn about Security Mutual Life's unisex life insurance products offered in qualified plans, as well as sales concepts using those products.

Security Mutual Life Insurance Company of New York
100 Court Street
PO Box 1625
Binghamton, New York 13902-1625
Phone: 1-800-346-7171